The Benefits of Dental Implants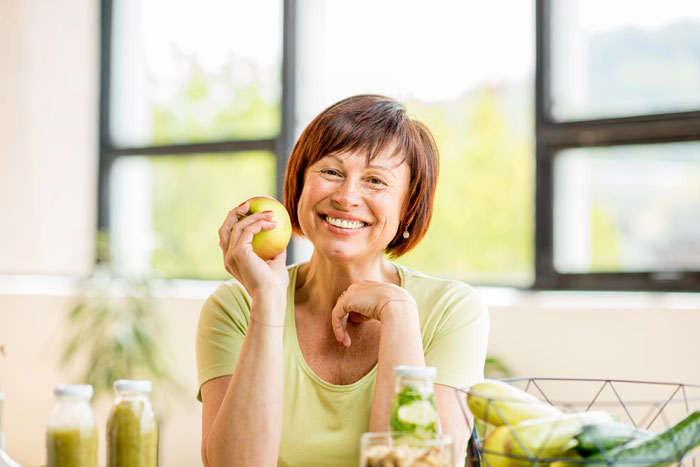 Dental implants have quickly emerged as one of the best tooth replacement solutions for a variety of reasons. These artificial teeth are optimal for those missing one or several teeth as well as those who have damaged/decayed teeth. However, plenty of patients are hesitant to have dental implants added as this tooth replacement solution is slightly more expensive than other options and requires a process known as osseointegration to occur across a period of about six months. However, dental implants have a wide variety of benefits as detailed below that more than justify the price and wait.
An Unparalleled Success Rate
Let our dentist add dental implants1 to your mouth and they will likely prove functional and beautiful for a couple of decades or even longer. Some of our patients enjoy flawless dental implants that flawlessly chomp through food all the way up until their final day. Dental implants have a much better success rate than other tooth replacement options. As long as you are in good health, not a smoker and have adequate jaw bone strength, your dental implants will serve you well across posterity.
A Perfectly Natural Look
Decades of research, experimentation and hard work have gone into the development of dental implants. Dental implants are carefully designed to function, feel and look just like normal teeth. Once your dental implants are in place, you will have the confidence necessary to eat, smile, laugh, yawn and open your mouth for any other reason in public settings. You will not feel even slightly self-conscious about the look of your dental implants. In fact, no one at your workplace or anywhere else in public will have any idea you have one or several dental implants.
Enhanced Bone/Facial Features
Though few people know it, dental implants safeguard natural tooth tissue. There is no need to cut adjacent teeth as required with traditional bridgework. Dental implants minimize bone resorption and bone deterioration that stems from a reduction of jaw bone height. Furthermore, dental implants even assist in the restoration of the jaw bone structure as they decrease the load placed on the teeth/oral structure.
Dental Implants Help You Chew and Digest Food
Dental implants are similar to natural teeth in that they are firmly anchored to the jaw bone. This reliable connection is formed with the use of titanium rods. These rods are connected directly to the jaw bone across a period of about six months in a process known as osseointegration. Once the titanium rods are properly fused to the jaw bone, our dentist will add crowns to complete the dental implants. The end result is a set of artificial teeth that empower you to chew through your food, breaking it down into small parts that can be digested with ease.
Dental Implants are Incredibly Convenient
If you were to poll patients who use dentures, bridges and dental implants, those who opted for dental implants would provide comparably positive feedback. There is no need to spend an abundance of time or effort caring for dental implants as is necessary with bridges and dentures. Those who are reliant upon bridges and dentures are inconvenienced to say the least. Bridges and dentures must be removed, cleaned and repaired at various points in time. Furthermore, annoyingly messy adhesives are required to keep these tooth replacement solutions in place. Alternatively, dental implants are similar to natural teeth in that they merely have to be flossed and brushed. Visit with your dentist a couple of times per year for a check-up/cleaning and your dental implants will likely prove functional far into the future.
There is no Risk of Cavity Development
Cavities will not form in dental implants no matter how much sugar you consume or how infrequently you clean your teeth. This is not to say you should give into your sugar cravings and skip your scheduled dentist appointments. Provide your dental implants with the proper care and they will last that much longer. However, you won't have to worry about cavity formation as your dental implant is comprised of a titanium rod connected to a crown that cannot be compromised by a cavity.
A Healthier Mouth
Improved oral health enhances overall biological health. Dental implants are one of the best ways to boost oral health as they minimize the chances of periodontal disease, inflammatory disease and chronic infection stemming from bacteria in the mouth. Sadly, periodontal disease will not improve on its own. If periodontal disease is not addressed by a qualified dentist, it will gradually worsen and possibly cause a heart attack, the onset of diabetes, a stroke, chronic disease and/or Alzheimer's. Once dental implants are in place, your oral health will immediately improve. These artificial teeth mimic natural teeth, facilitating the chewing process to minimize the strain on your digestive system, preventing the spread of harmful bacteria and bolstering facial bone structure.
The Freedom to Eat the Foods You Desire
If you are missing one or several teeth, it will be difficult to chew through the foods you love. Even a damaged or decayed tooth can prove quite painful when attempting to chew through food. There is no sense limiting yourself to certain types of food in an attempt to avoid oral pain when chewing. Furthermore, if you opt for dentures for tooth replacement, you won't be able to eat certain foods that are sticky/hard. Choose dental implants and you will be able to chew through foods of every type, regardless of their texture. A diverse intake of food enhances the entirety of your health while fulfilling your cravings and ultimately making you a much happier person.
Schedule an Appointment at Smile Hawaii 21st Century Dentistry
Are you missing one or several teeth? Perhaps your teeth have decayed to the point that it is time for extraction and replacement. Reach out to our dental office today to determine if you are a candidate for dental implants. You can contact us2 by dialing (808) 877-8090.
Resources
Please login to publish a comment.
Comments (0)