Dental Implants in Kahului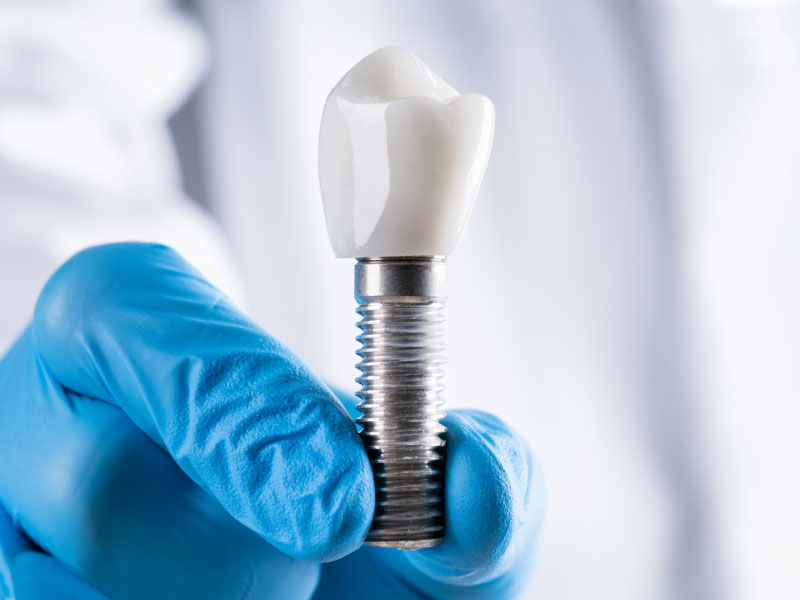 If you are in Hawaii and looking for a dentist in Kahului, we here at Smile Hawaii are here to help. One of our services that we offer is dental implants. If you think you might need dental implants, please come into our office or call us so we can set up a consultation for you. This guide will cover what dental implants are, who might need them, and what the procedure is that you can expect in our office.
Types of Dental Implants
There are two main types of dental implants. One is in the bone (endosteal) and the other is on the bone (subperiosteal). Endosteal is the most common type of implant and is what most people that come into our office get. You will have screws, blades, or a cylinder placed into the jawbone that can hold the prosthetic teeth.
Some implants can hold one tooth while others are formed and placed to hold more than one tooth. If you are already wearing removable dentures or bridges, this is most likely the best choice for you. Subperiosteal implants are placed on top of the jaw. The framework from the metal will go through the gum so that the implant can be held in place. These implants are usually only for those that cannot wear regular dentures due to inadequate bone height or other factors.
Who Can Get Dental Implants?
If you want to get dental implants, you need to be in good health including having good oral health. You need to be willing to keep up with a good oral health routine. You also need to have adequate bones in the jaw to ensure that they can support the implant. Since the implant is also going into the gums, the gums need to be healthy, and you shouldn't have periodontal disease.
Before getting dental implants, the dentist will check your bones in the mouth as well as the soft tissues and see if you can get dental implants or not. Dental implants are connected to many different parts of the mouth including the gums, so the dentist may also work closely with a periodontist to ensure the gums are healthy and can support dental implants.
Should I Consider Getting Dental Implants?
Dental implants have many different advantages and benefits. They can help restore the appearance of the mouth since you are getting implants that function and look just like real teeth. Not only does it restore the cosmetic look of your mouth, but it also allows you to chew and eat normally again. It also keeps the jawbone healthy. When there are no teeth or no implants, the strength in the jawbone reduces and it can never be regained.
Implants also help protect the health of the bones and gums around the dental implant tooth. Since you are getting an implant in place of a real tooth, the surrounding teeth will also be able to stay healthy and use the strength of the implant.
As with all dental procedures, there is also risk associated with dental implants. Your Kahului dentist will go over all the risks with you, so you know whether dental implants are right for you or not. When you use the office of Dr. Lance Ogata, you never have to worry about these risks because we have decades of experience that ensure the implant process goes smoothly with no infections or problems.
Who Needs Dental Implants?
If you aren't sure whether you need dental implants, you will need to talk to the dentist. The main purpose of dental implants is to replace missing teeth, so those getting dental implants have one or more missing teeth that they want to get replaced.
Your dentist will also check for the following before they agree to give you dental implants:
Your jawbone has reached full growth. Usually, children and young adults are not able to get dental implants because the bones in the jaw are still forming and developing.
You have healthy gums and tissues with no history of dental problems.
You don't have any health issues that can affect bone healing and you are not on any medications that can make it harder for your bones to heal.
You don't want to wear your dentures anymore.
You have speech problems that you want to improve.
You are willing to commit to the process of getting dental implants which can take several months and requires a lot of patience.
You don't smoke tobacco.
Make sure you are honest with the dentist about all of the above so that he can determine if you are eligible for dental implants. If dental implants are not an option, we can come up with another plan that works better for you.
Preparing for Dental Implants and the Process
When you come into our office, the dentist will first take x-rays and 3D images of the mouth and teeth. He will also take models of your jaw and teeth. He will then review your medical history and discuss with you the treatment plan. When the dental implants are ready to be placed, the gum will need to be cut open. He will then drill holes into the bone where the metal part of the implant can be placed inside.
Bone growth now begins to take place, but it can take several months. During this time, you will receive a fake tooth to be put into the gap. Once the bone growth is done, you can now get your permanent artificial tooth. As with all dental procedures, you might have some swelling, bruising, pain, and minor bleeding. All of this is normal but always give our office a call if you are worried about anything.
If you want to get dental implants or see if you are a good candidate for dental implants, you can give our office a call at 808-707-7445. You can come in for a consultation with the dentist and he will give you all the information you need.
Please login to publish a comment.
Comments (0)