Dental Implants and Restorations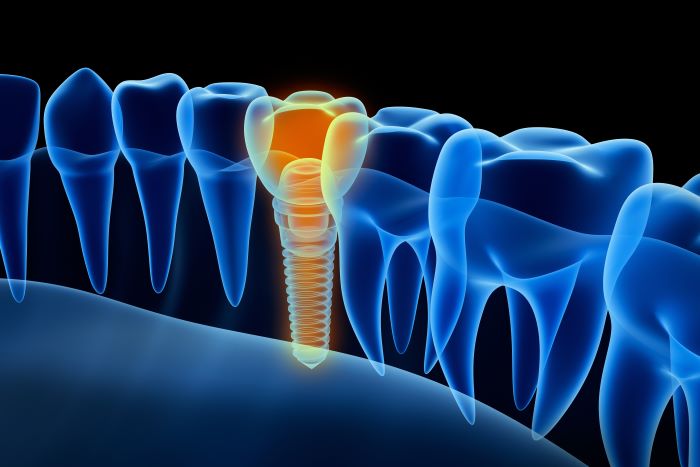 There are several reasons one may lose a tooth. From accidents to old age or medical reasons, losing teeth can affect one's self-confidence and sometimes make chewing difficult. But with the help of science and years of medical research, the dental implant restoration procedure was created to find solutions in this area of dentistry.
Yet, many people have little to no understanding of how dental restoration works, while some have misconceptions that need to be cleared. There are 3 essential questions you need to ask about Dental Implant Restorations.
WHAT IS A DENTAL IMPLANT RESTORATION?
There is a difference between implant restoration and dental implant restoration so let's break it down. Implant restoration helps change the concept of traditional dentures problems by providing solutions for missing teeth. While in the simplest definition possible, dental implant restoration is creating an artificial tooth to replace a real missing one. So, one is a concept, and the other is the procedure.
WHY DENTAL IMPLANT RESTORATION?
It is fascinating to note that more than three million people in the U.S have opted for this procedure, and that number keeps increasing each year, with more than 500,000 gaps. The American Academy of Implant Dentistry report states that putting implants in place restores the mouth to its natural state. This has saved a lot of people from the embarrassment and low self-confidence caused by missing a tooth.
HOW MUCH DOES IT COST?
Dental implants restoration is usually customized individually. The cost of the procedure is dependent on several factors and is $800 upwards. Occasionally, dental implants require a high up-front payment, but it's worth it because it lasts longer than replacement options. Are you still not thoroughly convinced? It would help if you saw a qualified dentist.
Dr. Ogata, who has over 30 years of experience in the dental field, can provide you with the best options for dental implants restorations that look and feel as natural as possible without breaking the bank. If you're considering undergoing a dental implant procedure in Kahului or Maui, contact Dr. Lance Ogata for a quote that works for you. Now that you've learned the fundamentals of Dental Implant Restoration, here are three things you should ask before making an appointment.
How risky is a dental implant procedure?
Firstly, know that the procedure is almost painless. Yes, fixing titanium on the jawbones may sound painful, but there is no cause for alarm aside from minimal post-operative pain. After running through treatment options available to you, you are two steps away from having your dental implants restorations, and these processes are not to be rushed.
To provide a healthy foundation for the implants to settle in, the first step is to receive your bone graft. You should need up to 4-5 months to heal, depending on the type of bone graft. Once healed, the actual surgery is carried out, and your dental implant is put in place. This requires healing, too, followed by some aftercare. You should eat soft foods and take a liquid diet for at least 24 hours, while swelling may likely be present for up to 4 days.
But what is the worst-case scenario?
Although severe post-surgical infection cases are rare, a worst-case scenario would be an infection in your jawbone post-surgery. Not only will a severe infection cost you your implant, but it could also affect your overall health. So, take your aftercare seriously, stay away from what's not advisable and treat every infection the moment you notice it to avoid further complications.
Who is not suitable for dental implants?
Unfortunately, there is a long list of people who are not eligible for dental implant procedures. The reason is that receiving an implant restoration demands fully developed, strong, and healthy jawbones. Apart from teenagers and young adults who can still use some jawbones growth, several illnesses and addictions may ruin your chances of getting an implant restoration.
These include:
Severe gingivitis
Alcohol addiction
Cancer
Osteonecrosis of the jaw
Smoking addiction
Low body immunity
Chronic diabetics
Make sure you speak to our expert to discuss your options.
What are the popular myths around dental implant restoration?
Just like every other thing that can be misunderstood or misjudged, Dental Implants do have some popular opinions that are not true.
These include:
• Dental Implants will make my smile look fake.
This is false because the implants are carefully crafted to suit your facial features and match any remaining natural teeth precisely. This means that you get a long-lasting smile as naturally as possible.
• Dental Implants are for the aged and those whose whole teeth have fallen out.
There are many reasons why an adult may lose a tooth, and it is estimated that over 178 million American adults are missing at least one tooth, and 40 million are missing all of their teeth. Dental implants can be a long-lasting tooth replacement option for individuals of any age if you match the criteria.
• Dental Implants procedures are highly unsuccessful.
Did you know that the success rate for dental implant procedures runs between 95% - 98%? Yes. You read that right. With the advancement of science and medicine, implantology has significantly improved. So it would be best if you had absolutely no fear while planning for your procedure, primarily when you use a dentist as efficient as Dr. Ogata and his team.
• Dental Implants are so extraordinary that they need "special care."
After completing both stages of your dental implant restoration, maintaining them is no different from caring for your natural teeth or other replacement options. Nothing special at all! Just have a daily hygiene plan in place and visit your dentist occasionally, as you should do. Follow these steps, and your implants can easily last for decades.
• Dental Implants aren't strong and do not last.
How? These implants are fused into the jawbones through a process called Osseointegration. This is the strongest option for replacing a missing tooth in the history of dentistry and accurately mirrors the strength, function, structure, and appearance of natural teeth.
So, what's next?
Now that you know all about Dental implants restorations and have all your questions answered, what do you think? Do note that although dental implant restoration can be a permanent solution to give you that long-lasting smile you desire, it is essential for you to have had a detailed conversation with your dentist before taking any decision.
If you are in Maui or Kahului and are interested in learning more about dental implants, or you want to check out other available alternatives, book an appointment with our professional dentist Dr. Lance Ogata.
Please login to publish a comment.
Comments (0)