Benefits of Same Day Crowns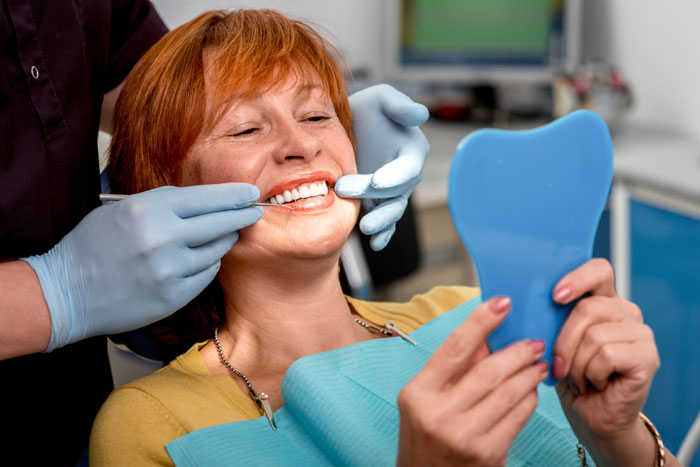 It is no longer necessary to schedule multiple appointments at the dentist's office for the placement of a crown. The traditional crown process requires an initial visit to prepare the tooth and take an impression, followed by another visit for the placement of the crown several weeks later. The worst part about this old-fashioned crown creation and placement process was that it took several weeks for the dental lab to make the crown based on the impression. CEREC crown technology now exists to create the perfect crown for the nuances of your unique tooth in a single day. There are countless advantages to same day crowns.
A Brief Look at the Same Day Crown Process
CEREC1 machines create porcelain crowns in one visit. This high-tech machine provides patients with an aesthetically pleasing, fast result without an abundance of drilling or injections. There is no need to visit with the dentist several times to create a lovely-looking and functionally-flawless crown. The porcelain crowns generated through CEREC technology require tooth preparation similar to the traditional method. A specialized camera captures a digital image of the tooth instead of relying on an impression mold as required with traditional crowns. The dentist guides the CEREC machine to design the perfect crown for the tooth in question. The crown is subsequently cemented in place.
Same Day Crowns are Safe and Painless
CEREC same day crowns are perfectly safe for your mouth. These porcelain crowns are fully compatible with your body as they feature the same characteristics as your natural tooth enamel. The procedure required to place CEREC crowns is noninvasive so there is no reason to worry about any potential discomfort. Once your CEREC crowns are in place, they will hold strong and prove less vulnerable to cracking than traditional crowns.
Avoid Those Uncomfortable and Time-consuming Dental Impressions
Dental impressions are usually made with the use of trays and putty. This approach is uncomfortable and messy, especially for those who have a powerful gag reflex. Traditional dental impressions are nowhere near as accurate as those made by the CREC Omnicam. The Omnicam is a highly precise scanner that takes pictures of the teeth to generate a three-dimensional model of the mouth. CEREC impressions are comparably comfortable, easy and fast.
Same Day Crowns are Convenient
It does not take an abundance of time to create and place same day crowns. Your same day crowns can be made and added to your mouth in an hour or less. This way, you do not have to take half a day off from work to sit in the dentist's chair. In fact, you can be measured for same day crowns and provided with those crowns during a lunch break from work.
There is no Need for Temporary Crowns
Traditional crowns require two visits to the dentist's office: one to place a temporary crown and one to place the permanent crown. Several weeks pass between these crown placements to provide the lab technician with enough time to create a crown suited for your nuanced teeth. The problems with temporary crowns extend beyond their inconvenience. Temporary crowns often make it difficult to speak and chew properly. Furthermore, temporary crowns are likely to permit bacteria to reach the prepared tooth and cause painful irritation to the gums. In some cases, temporary crowns will fall off before the permanent crown is ready to be placed. It is even possible for temporary crowns to permit the teeth to shift, making it that much more challenging for the final crown to fit as it should. The bottom line is temporary crowns are unlikely to fit your unique mouth to perfection while a CEREC same day crown will prove to be the perfect fit.
Same Day Crowns are More Visually Impressive Than Traditional Crowns
Crowns made on the same day are that much more likely to resemble your actual teeth than traditional crowns. If you are even slightly concerned with how you look, opt for same day crowns. These highly-detailed crowns will provide you with the natural tooth aesthetic you need to look and feel confident when surrounded by others.
Rapid Pain Relief
If you have tooth damage or a cracked tooth, the pain might prove unbearable. Meet with a dentist who applies same day crowns and you will be provided with tooth restorations without delay. This is the quickest way to eliminate your pain and return your mouth to normalcy.
Same Day Crowns are Affordable
There is a common misconception that same day crowns are extraordinarily costly simply because they are an efficient means of rectifying damaged teeth. The truth is same day crowns are quite affordable. Take a look at the price difference between traditional crowns and same day crowns and you will find the two are similarly priced.
Schedule an Appointment at Smile Hawaii
Same day crowns are the perfect way to beautify your smile, improve your oral health and give you the confidence you need to be your true self in social settings. Reach out to our team at (808) 877-8090 to learn more about same day crowns and schedule an appointment2.
Resources
Please login to publish a comment.
Comments (0)